Today we have a very special interview, it's with book blogger and co-indie author Jennifer Garcia. Ms. Garcia is the author of the just released, My Mr. Manny. Please welcome Jennifer Garcia!
"Hello and welcome Ms. Garcia!" Becky says patting the plush leather chair next to her, beside the fire. "Please come, have a seat. Tea?" she says passing her a cup without waiting for her response.
Garcia, a savvy Italian woman, long dark hair and stunning features, takes a seat and the proffered cup, "I'd love some, thank you."
"Let's get started here shall we? In an interview you gave awhile back, I read that you spent some considerable time at sea, on your father's boat, is that right?"
Can you tell us about that experience?
Of course, I think one of my first memories with my father is fishing off the back of his very first boat, Ms. Forbes, in Boston. I was just a baby and because we spent so much time together, he always took me with him to hang out on his boat.
As I got older and he moved to California, he actually spent many years living on a different boat he bought in Northern California. I remember slaving (I was a kid, any work was slaving) over the boat, sanding, lacquering, and scrubbing. I hated it then, because I wanted to just play not work, but now as an adult, I appreciate the experience and time spent with my dad. And play we did. He would take me and some friends to Catalina for weekend trips and give me free rein over our thirteen foot Boston whaler.
I love all of the adventures we had on that boat, The Moonraker, the experiences, and the time we spent together.
How did that time spent with your father at sea shape your writing?
I think it gave me experiences many may not have. Not just with boating but all of the work we did. I mean, I can sand and paint a small fiberglass boat. I can sand and lacquer teak. I also have the memories of spending time with my dad and those experiences have shaped the person I am now.
Fast forward to current times, you are not only a successful author but also a successful business-woman in the Scrap/Recycling Industry. I'll tell you a little about myself here, I spent six years in the industrial stormwater field and have walked recycling yards and rubbed shoulders of big wigs at ISRI events. The recycling industry is a male dominated field, but one that you are a successful entrepreneurial business-woman in. Do you find that your male characters are easy or harder to create because of your experience? Why?
Oh, wow. I had no idea, Becky. So, you pretty much know my industry well. We also belong to ISRI.
This is a great question, though. I'm a pretty tough person. I am honest and speak my mind and find that I have always worked in male dominated industries. I ran demolition crews alone at the age of sixteen, I worked for a major airline managing up to seven hundred employees at one time, most men and older men to make it worse. So, I have experience dealing with men and their prejudices.
I find that I understand a man well, because I believe that I think like a man. I don't have many mental womanly qualities except for romance. I relate to men more than I do women. That could be a flaw or a strength depending how you look at it. So, for those reasons I think I can get into the head of a man pretty easily, which is ironic because I mostly write from a female's point of view.
Your latest novel,
My Mr. Manny
, is a love story about a single mother who's trying to overcome the hardships of life. After her divorce, she hires a male nanny, a turn of fate that blossoms into love. As you know, scrap recycling yards, are a hustling bustling place with front loaders, scales and other large and moving machinery. Did any of your work experiences from your business, or other more disreputable sites (think dark and lawless...), seep into
My Mr. Manny
? If not in this novel, do you foresee any of your others having scenarios right out of your daily grind, per se?
God, you're good at this. You make me think long and hard and reach deep inside. I absolutely despise crooked business people and there are a lot in my industry. But honestly, if I didn't take over for my father, I would have never chosen the recycling industry at all. I have the experience and am good at what I do, but I could do it in any industry, to tell you the truth.
But to answer your question, no. I don't think so. Perhaps, one day I will plan and place some of my experiences in this industry in a book.
Lastly as we wrap things up,
My Mr. Manny
is your third novel? Can you tell us a bit more about what we can expect from the story and/or it's characters?
It's actually my first novel. I have a novella coming out a month prior to that. My intention with
My Mr. Manny
while writing it was to share some of my experiences moving from Boston during high school and leaving behind my big Italian family to move with my father. I play that through my main character, Mia. While she's grasping for some part of her past to bring into her present, she bumps into an old friend from the neighborhood. She marries him but doesn't realize until it's too late that she did so for all the wrong reasons. She's alone with her daughter, the love of her life, the one person that she lives for and keeps her going. But her daughter, Lucia, is growing and needs a bit more care, so Mia needs help. Here comes the Manny (male nanny). Starting with a very awkward first meeting and an instant attraction, he becomes a live in. I hope everyone will be able to see how important family is to Mia, how important her daughter is, and how much she learns about herself, which opens her to accept real love.
And, for our readers, where can they purchase your latest release?
My first book, a novella,
In My Mother's Footsteps
by Forbes Arnone releases July 2nd. My first novel,
My Mr. Manny
by Jennifer Garcia will release August 26th. They will be available on Amazon, Barnes and Noble and Smashwords. I'll keep updated information on my blog.
http://jenniferfgarcia.com
Jennifer, thank you so much for taking the time out of your busy schedule to chat with us today!
Becky, it's been a pleasure being here with you. I admire you so much and love your happy attitude. It's contagious and admirable. You challenged me with these questions and surprised me with your experience. Thank you so much for participating in this tour. You're one in a million. ;)
Please take the time today to put Ms. Garcia's novel,
My Mr. Manny
on your to-read list, or better yet support this budding author by purchasing a copy today. Click on a store link below to be taken to the book's purchase page.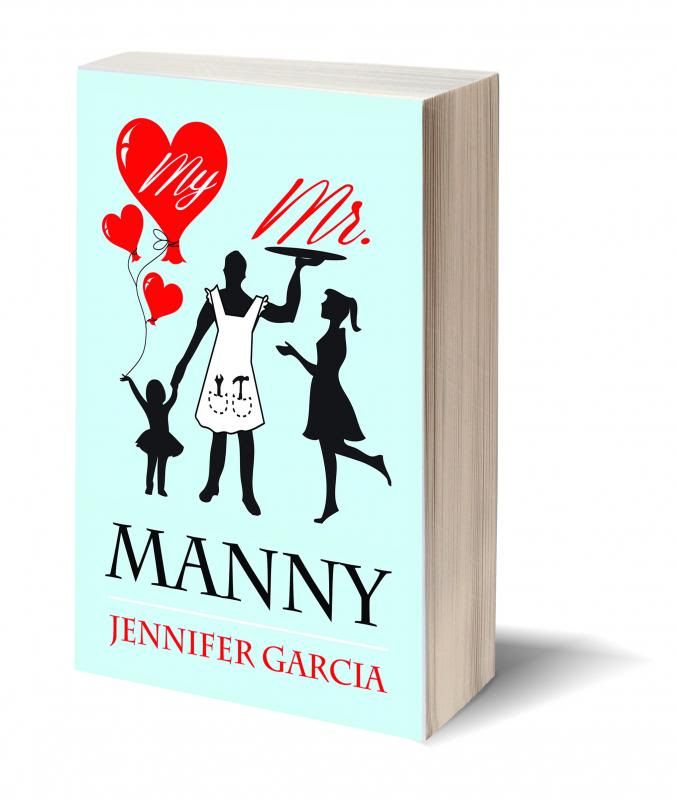 Smashwords
To learn more about Jennifer Garcia, visit her online at: